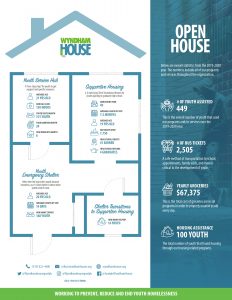 Wyndham House is a charitable organization and relies on the support of individuals and businesses to run our valuable programs. Your donation is important to us and very appreciated.  Please give today and change the lives of homeless youth in our communities. 
You can make a difference and thank you for your kindness!
Donate Online
Single Gift
When kids find themselves homeless, they don't know where to turn for help. Wyndham House offers food, shelter and support services to get homeless kids off the street and into a safe and trusting environment where they can begin to plan a better future.
Monthly Giving
Your commitment shows our youth that there are people that they can count on to be there every step of the way.
In Honour
Celebrate a special occasion with a gift that changes young lives. Give a gift to Wyndham House in the name of a loved one who has achieved an important milestone. Perfect for birthdays, anniversaries, graduations or retirements, your gift pays tribute to a loved one while bringing opportunity and hope to homeless youth.
In Memory
Celebrate the memory of a loved one with a gift to homeless youth.  Write your own message of condolence or you can opt for an acknowledgment of your gift from Wyndham House to be sent by mail to your friend or loved one.
Gift of Securities, Life Insurance, Stock, Annuities
These are a few great options to make a significant difference to our youth, while reaping some tax benefits. Your gift can be in the form of shares, bonds, insurance or mutual funds. Forms available upon request.
Engage your Workplace/Community Group
Get involved! Become a Corporate Sponsor. Place a Coin Box at your office, Host a Donation Drive,  support our Holiday Youth Wish List or Deliver A Meal for 20 youth.  Support Socks For Shelter, by promoting a Sock Kit at your business. Come to our events, every bit helps.
Donate In-Kind Products/Services
Consider supporting a gift to our annual Silent Auction or donating Ticket Passes, which support our Youth Recreational Programs. Workshop mentors, services, new clothing, bus passes and food donations, always in need and very much appreciated!
Third Party Events
We are here to help. Host a Donation Drive, Garage Sale, BBQ, Bake Sale, Golf Tournament, Dinner Party or Bottle Drive supporting Wyndham House. Please contact us in advance for approval.
Volunteer
Give of your time and energies to support Wyndham House. Opportunities are available to individuals or groups over the age of 18 years old.
Current opportunities – Join our Events Committee which meets monthly. Contact us at: info@wyndhamhouse.org
Donate by Mail, In Person or by Phone
Mail – P.O. Box 1898 Stn. Main Guelph, ON N1H 7A1
In Person – Admin Office, 106 Woolwich St. Guelph, ON N1H 3V2
Monday-Friday 9:00 a.m. – 4:00 p.m.
Phone – 519.822.4400 x206
Charitable Tax Receipts will be issued.