Cook a meal for Wyndham House!
Volunteer to help shop, prep, cook and pack 100 Dinner freezer meals for youth in need in our local community.
Few service projects do as much immediate good or offer such a meaningful, personal experience as volunteering to prepare a home cooked meal to young people who are at-risk and hungry.
We hope to launch our new kitchen project once a month later this fall.
VOLUNTEER SIGN-UP
When & Where
Monthly @ Nourish Kitchen -10 Carden St. Guelph
What You'll Need
Basic cooking skills
Your own transportation
Instructions
Call us @ 519.822.4400 x206 or email kim@wyndhamhouse.org. We are looking for

10 adult volunteers

each month.  Let's arrange the day and time you/or group will volunteer, and receive any other instructions.
Let's choose a meal/dessert that is healthy but easy to prepare, such as spaghetti, chicken or tacos. Our staff have a suggested dinner list of what our youth would like most.
Arrive early on the appointed day to make sure everything is in order
Organize, prep, cook and place in individual containers
Pack, Clean-Up, Deliver to one of our sites
Have some fun!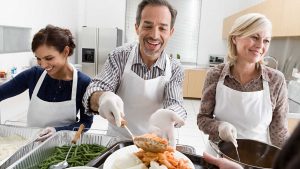 Other Volunteer Opportunities available later this Fall
Fundraising Committee – monthly /1 hour meeting
Donate & Deliver a Prepared Meal for 20
Holiday Giving Program – donations/sorting
Organizing & Sorting
Yard Clean-ups
Event Day Support
In-Kind Donation Support: Welcome Home Kits, Personal Hygiene Kits, current needs
Please complete the Volunteer Sign-up form above.
Thank you!