Every day, we find ourselves in need of certain items…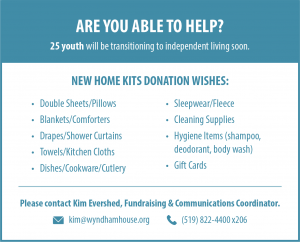 Host a Donation Drive:
Are you looking for ways to volunteer and give back to those in need? Consider hosting a donation drive! Volunteering your time and effort to engage others in a donation drive is a great way to multiply the impact that one person can make! Here are a few easy steps for hosting your own donation drive.
Connect with us:
Before you take any other steps, contact with Wyndham House to let them know that you are interested in hosting a donation drive. We will know which items are most-needed at any given time, will provide important details about donation acceptance policies, can share ideas from previous donation drives, and answer any questions you have.
Create a plan:
As with any project, there are some logistics to consider.  For example, how long will you collect items (1 day, 1 week, multiple different days, etc.). Another thing to think about is where you will collect the items: Will people bring the items to you? If so, where will they drop them off? You could choose a central location, or will you arrange with others a time for you to pick up their donations? After you've figured this out, you need to decide where your donations will be stored until you have everything ready to drop off.
Spread the word:
Now that you have figured out all the behind the scenes work, you can begin spreading the word about your donation drive! You can use email, calls or texts, or word of mouth to tell your family, friends, and neighbors about your donation drive. If you are looking to expand your reach, there are many more options for getting others involved! You might post on social media (Instagram, Facebook, Twitter) to inform your friends about what you are collecting, who you are collecting for, and how they can donate. You can also post flyers around your neighborhood, or hand flyers out to people at your church, school, or on your sports team. This step is a perfect time for you to get creative about getting the word out to as many people as possible!
Collect:
This is the best part! Be sure to thank everyone who donates items for your drive! This is a great chance to interact and get to know those in your community who share your passion for helping our young people in need. Don't forget to take pictures! All of the items you collect should be placed in boxes or other containers that make it easy to transport.
Schedule a delivery:
Once you have collected all of the donations, the final step is to contact Wyndham House once more to schedule a donation drop off. You can contact at kim@wyndhamhouse.org or (519) 822-4400 to schedule a time that works for both you and us.
Current Wish Lists:
Comforters, blankets, sheet sets (twin/double) pillows, towels, face cloths
Adult sized underwear, clothing, shoes
Backpacks and tote bags
Personal care items
Housing items – pots, dishes, silverware, cooking utensils, small appliances
Canned food and dry goods, cleaning supplies
Youth Holiday Wishes, Nov 2022
Only new items can be taken as donations. Thank you for your understanding.
Every single donation counts, and we can't wait to see the impact that YOU will make on youth experiencing homelessness in our area!
Thank you!