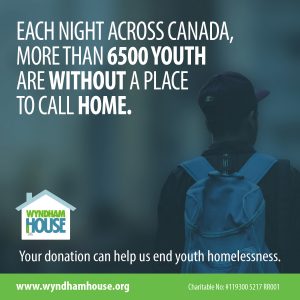 Since 1973, Wyndham House has been working to prevent, reduce and end youth homelessness. If you are between the ages of 16 and 25 and need assistance, use the links below.
If you wish to invest in our programs and crucial supports for youth and join us in working to prevent, reduce and end youth homelessness, please click the donate button. 
Click Here to Donate
NEWS & EVENTS!
September 2019
Socks for Shelter is back, our annual December Campaign. Just $10.00 a pair, 2 sizes available 6-9, 10-13.
Pre-order today &  pick up  December 1. Thank you to this year's Title Sponsor, Aaron Zuccala!
Engage your business, co-workers, community group, family and friends. By participating in our Socks for Shelter campaign is easy and rewarding way to show you care!
100% of all sock sales go directly into support programs that help move homeless youth from crisis to stability.
Were looking for Local Sock Box Sales Sites to sell our socks for the month of December, get involved and request a tool kit!
Socks for Shelter Information
August 2019
Join Us! Beyond Rewards is hosting a Community BBQ for us on Thursday August 15th from 11:30 am – 1:30pm. Lunch is $5.00, we are also accepting Donations for Backpacks & School Supplies.
July 2019
Thank you to our new Community Partner, Birthday Angels. Each month, they prepare and send  such thoughtful Birthday Party Packages & Gifts, supporting our  youth at our two Long Term Transitional Homes and Youth Emergency Shelter every month. Every youth deserves to celebrate their birthday, regardless of their circumstances.

May 2019

April 2019

March 2019
Our new commercial grade kitchen update has now been completed @ our Bellevue Long Term Transitional Boys Home. It was in dire need of an upgrade, over 60 youth resided here last year and it now looks amazing!


March 2019
Net proceeds from the Hockey Helps The Homeless and the University of Guelph, Hockey Tournament held at the Gryphon Arena, was donated directly to Wyndham House to support our important work with homeless and at-risk youth in the Guelph, Wellington area. More specifically, funds raised will support our Long Term Transitional Homes.
Thank you HHTH and UOG!