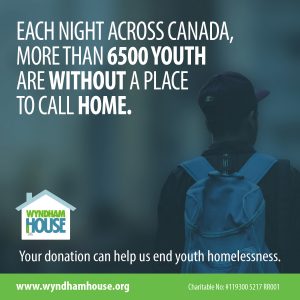 Since 1973, Wyndham House has been working to prevent, reduce and end youth homelessness. If you are between the ages of 16 and 25 and need assistance, use the links below.
If you wish to invest in our programs and crucial supports for youth and join us in working to prevent, reduce and end youth homelessness, please click the donate button. 
Click Here to Donate
     NEWS & EVENTS!
March 27, 2020, 7 pm @ Opus Lounge
A Little Bit COUNTRY !  Dust off your Denim and mark you calendar!
You are invited to join us for a fun and memorable country themed evening, featuring Beverley Mahood! Guests will enjoy a dynamic experience with our Host Beverley Mahood that includes 2 performances! Beverley Mahood is a very successful Canadian singer-songwriter, actress and television host.
Guests will enjoy an evening of great music, delicious food, exciting auction items, dancing and don't forget to "Rock your Denim!"
Purchase Online:
Tickets are limited, so grab yours today! Ebrite link: https://bit.ly/35S1CBY
In Person:
Wyndham House-106 Woolwich St, Guelph T: 519-822-4400, Western Restaurant-92 Macdonnell St, Guelph
Tickets are $50.00
We are pleased to offer a variety of Sponsorship opportunities and incentives that best suits your needs. A donation of an Auction item also allows for a variety of opportunities to provide resources and hope to those who need it most.
December  2019
Socks for Shelter is back, our annual December Campaign. Just $10.00 a pair!
Thank you to this year's Title Sponsor, Aaron Zuccala!
Engage your business, co-workers, community group, family and friends. By participating in our Socks for Shelter campaign is easy and rewarding way to show you care! 100% of all sock sales go directly into support programs that help move homeless youth from crisis to stability.
Were looking for Local Sock Box Sales Sites to sell our socks for the month of December, get involved and request a tool kit!
Socks for Shelter Information